Fun fact time:
I don't know if other writers do this, but I collect fun, inexpensive little pieces of jewelry to commemorate each book I've written.
And, I have a few fun pieces I've been gifted from family and friends.
The first books I wrote were 2 of what I planned on making a trilogy (sorry to those friends who are still waiting on book 3! ?) that has an entire mythology around moths, thus the pretty ring and moth necklace (from my sister).
A cute bit from Jane Austen and a typewriter from my mom.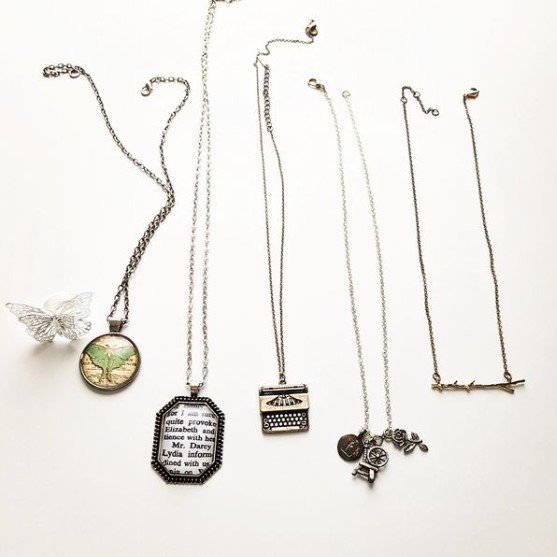 Then a necklace of a rose and spinning wheel charm with my initial on it for the sleeping beauty retelling I wrote (which hopefully you'll all get to read one day!).
Then a golden branch to symbolize THE PUPPETMASTER'S APPRENTICE. ?
I love these little keepsakes and I wear them when I'm drafting to remind me these books are real and that I'm creating new worlds worth reading. My WIP is a Red Riding Hood/The Boy Who Cried Wolf retelling and I don't have anything to represent it yet… but I'm on the hunt!
Writers, do you do anything like this, treat yourself to something special to help you celebrate the book you're working on or have finished? Tell me here >>