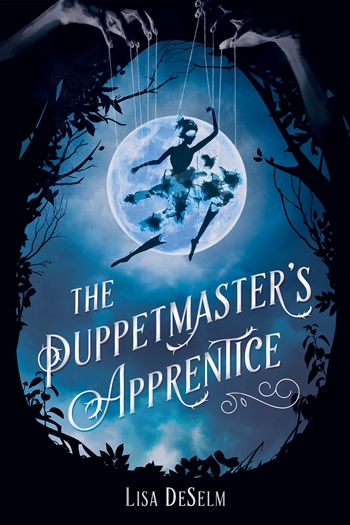 The Puppetmaster's Apprentice
Pinocchio meets Frankenstein in this dark fairy tale retelling where a young girl is commissioned to build an assassin for a dark-hearted tyrant.
Impressed by the work of the puppetmaster and his apprentice, Tavia's ruler, the Margrave, has ordered dozens of life-size marionette soldiers to be sent to Wolfspire Hall. When the orders for more soldiers come in with increasingly urgent deadlines, the puppetmaster's health suffers and Pirouette, his daughter and protégé, is left to build in his stead. But there is something far more twisted brewing at Wolfspire—the Margrave's son wants Pirouette to create an assassin. And he wants her to give it life.
With Tavia teetering on the brink of war and her father dying in the dungeons, Pirouette has no choice but to accept. Racing against the rise of the next blue moon—the magic that will bring her creation to life—she can't help but wonder, is she making a masterpiece… or a monster?
Available in hardcover, Ebook & Audiobook
"DeSelm's fantastical debut, an elegantly styled, gender-swapped retelling of "Pinocchio," transports readers into a wood in which magic's price must always be paid… In addition to intricate details and nuanced characters and relationships, DeSelm aptly seeds the plot with a wealth of themes, among them the cycle of life and death, the unease of loneliness, and the necessity of reliance on others."
–­ Publishers Weekly, starred review ★
"DeSelm excels at creating a strong sense of place and nuanced characters… Laden with atmosphere and written in gorgeous prose, this stunning debut novel is a dark fairy tale about creating life, becoming human, and longing for connection, reminiscent of Pinocchio and Frankenstein. This author is one to watch."
–­ Booklist, starred review ★
"DeSelm follows in Marissa Meyer's footsteps, changing the traditional fairy tale just enough with an interesting new premise…A good general purchase where fairy tale retellings are popular."
–­ School Library Journal
"Allusions to source texts buttress gender-conscious explorations of belonging, honesty, autonomy, empathy, and the nuanced politics of creation… An artful adaptation and delightful debut."
–­ Kirkus Reviews
"Readers have a lot to look forward to here, from a sweet, healthy romance between Piro and the tailor's son, to mysterious blue moon magic, to Piro's outwitting of the stubborn new Margrave while in captivity. This will sit well on shelves alongside other retellings that adequately capture the wonder of their sources." 
– The Bulletin for the Center of Children's Books