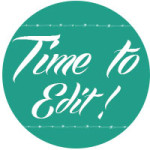 I've been letting my middle grade manuscript sit for about a month, while good friends and dear critics read through it. It's been so fun to hear the feedback trickling in.
Today, I got back a whole slew of insightful, helpful questions and comments from my personal editor, who also happens to be my dear BFF. We were college roommates for four years, post-college apartment mates, and have stayed close since then. She gets me. She is my kindred spirit, as Anne would say. She also happens to be an excellent writer herself, matches me in her love of reading, and probably missed her calling to be a professional editor. (If only I could pay her big bucks for all the time she's spent helping me!)
She's also spent several years working in a library, and a lot of that as a children's librarian, so she knows a thing or two about books in general. I also know that she isn't afraid to tell me the truth and say what she really thinks about my writing, which is exactly what I need.
Writing a book and sending it out for people to read and give you honest feedback is pretty much like going to your first middle school dance. You're a nervous 7-th grader, hovering in the midst of a buzzing cloud of girls, desperately hoping that A) your new outfit both stands out and appropriately blends in, B) That nobody will notice the chunks of food stuck in your braces and C) that the cute boy you like will ask you to dance.
I get that same palms-sweaty nervousness when I'm about to read through what someone (whose opinion I really care about) thinks about my work. Will they like it? Is it any good? Am I terribly disillusioned? Are there literary chunks of weirdness showing?
I imagine that doesn't really get any easier over time. I think the best thing to do is just wipe the sweat off on your neon sweatshirt and join everyone else doing the locomotion on the dance floor. You just have to keep at it.
I'm convinced that going through these rounds of edits now are helping me produce a much stronger manuscript to submit to an agent, and forcing my brain to sit down and reopen my story, to look at it with new eyes and start to patch in what's missing, is going to be so worthwhile.
So, little book, your vacation is over, time to get back to work, nose to the grindstone, eye to the drawing board and so forth! There are edits to make and new chapters to write and plot holes to fix!